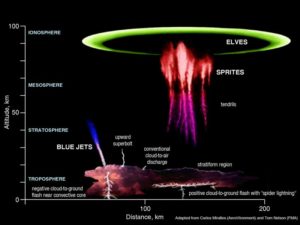 Electricity in the Universe has been identified from beneath our feet, in animals and plants, our biosphere, and out to the furthest reaches of the Universe. In general, electricity is present wherever we find plasma, and since 99.999% of the visible universe is in the plasma state, magnetic field and electric currents are nearly everywhere.
This page summarises where electricity and electric currents have been considered to be important. Each item is supported by peer reviewed papers from scientists in a number of different disciplines.
Terrestrial electricity
Telluric currents (Subterranean electricity)
See also: Telluric current on Wikipedia
Underground currents up to a million amps have been discovered in Australia.[1]
Telluric currents have been discovered in Arizon in the San Francisco Peaks volcanic field.[2]
Earth's core: "Electric currents of about a billion amps flow across the boundary between the solid inner core and the fluid outer core that lies around it."[3]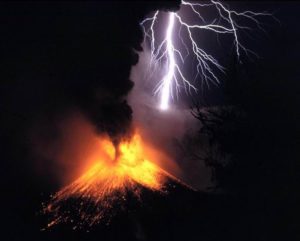 Atmospheric electricity
See also: Atmospheric electricity
"Meteors are atmospheric phenomena observed in the atmosphere or at the surface of the earth".[4] "Electrometeors" are "visible or audible manifestation of atmospheric electricity",[5] ie. ".. phenomena resulting from the interaction of electric charges with the atmosphere. Examples of such phenomena are storms, lightning, thunder, St Elmo's fires and polar aurora".[4]
Lightning is probably the most common and well-accepted form of terrestrial electricity
Fair weather field is the measured voltage different between the ground and upper atmosphere
St Elmos Fire is a well-documented, but less common form of electrical discharge
Gigantic jets (upward lightning) that can travel more than 60km (40 miles) into the ionosphere.[8]
Elves: the acronym stands for "Emissions of Light and Very low frequency perturbations from Electromagnetically pulsed Sources")
Tigers: (Transient Ionospheric Glow Emission in Red)[9]
Trolls: (Transient Red Optical Luminous Lineament)
Gnomes and *Pixies [10]
Clouds on earth blown by the solar wind.[11]
Ionopshere
Birkeland currents are electric currents that power the aurora (on Earth and other planets),[12] and carry about a million amps.[13]
Ionospheric electric currents have been recognised for several centuries.[14]
Giant electric currents in the sky[14b]
Biological electricity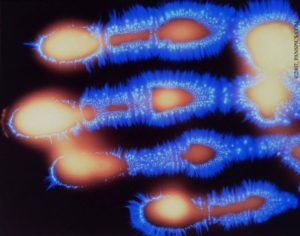 Extraterrestrial (cosmic) electricity
General cosmic electricity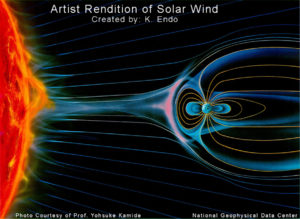 Cosmic electricity: "Almost all cosmic plasmas that have been studied in detail seem to be penetrated by magnetic fields. The presence of the magnetic fields implies that considerable electric currents must exist in the cosmic plasmas. As has been stressed by Alfvén such currents often have a pronounced tendency to flow in relatively thin filamentary and sheet structures. Nearby examples of this are found in the ionosphere and magnetosphere of the Earth. In situ measurements show that currents here flow in a complex network of filaments and sheets. Also in more distant plasmas like the chromosphere and corona of the sun, the solar wind, and the interstellar medium we find thin structures in the form of filaments and sheets. There is strong evidence that many of these narrow structures are subject to the pinching action of electric currents."[19][20]
Near-Earth electricity
Neutral sheet and near-earth magnetotail flux ropes whose "field-aligned current within these ropes may approach a million amps".[21]
Solar electricity
Solar Corona produces current sheets.[26]
Sun spots [27]
Interplanetary electricity
Heliospheric current sheet carries about 3×109 amperes, [28] with a current density of around 10-10 amps/m2 (space is big!)
Interplanetary electric field has the same extent as the heliospheric current sheet, but the current run north-south.[29] [30]
Flux ropes (Birkeland currents) between the Sun and Earth were discovered by the THEMIS spacecraft, carrying 650,000 Amps to the Artic aurora.[31] [32]
Solar wind [33]
Galactic electricity
Intergalactic electricity
Galactic current sheet: the analog of the "Heliospheric current sheet" is estimated to carry 1017 – 1019 Amps.[37]
Extragalactic jets (the analog of galactic astrophysical jets) carry electric currents.[38]
Comets
Venus' tail (flux ropes)
Meteoroids
Meteoroids: "… in space are electrically charged due to cosmic rays, solar UV, and other effects (solar wind and ions and electron impacts)"[47]