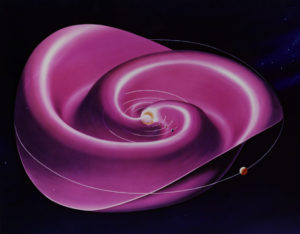 There are many peer reviewed papers on electricity in space. They do not necessarily cover all aspects of the "Electric Universe" theories. This website does not endorse any papers listed, and the authors listed are responsible only for their own work. See also the numerous citations in: "Electricity throughout the Universe".
Note that peer review does not require a paper to be submitted to any specific journal, only that a paper is available and accessible.
Exhibitions
Electric Space, an exhibition developed by the Space Science Institute, together with the Franklin Institute Science Museum in Philadelphia, Pennsylvania, the Association of Science and Technology Centers (ASTC) with funding from the Informal Science Education Program of the National Science Foundation's Education and Human Resources Directorate, and NASA's Space Physics Division.
General electricity in space
Solar system electricity
Solar electricity
Mars electricity
Saturn Electricity
Fischer, Georg; Gurnett, Donald A.; Kurth, William S.; Akalin, Ferzan; Zarka, Philippe; Dyudina, Ulyana A.; Farrell, William M.; Kaiser, Michael L., "Atmospheric Electricity at Saturn" (abs), Space Science Reviews, Volume 137, Issue 1-4, pp. 271-285, 06/2008
Farrell, W. M.; Desch, M. D.; Kaiser, M. L.; Kurth, W. S.; Gurnett, D. A., "Changing electrical nature of Saturn's rings: Implications for spoke formation" (abs), Geophysical Research Letters, Volume 33, Issue 7, CiteID L07203, 04/2006
Weinheimer, A. J.; Few, A. A., Jr. "The spokes in Saturn's rings – A critical evaluation of possible electrical processes" (abs), Geophysical Research Letters, vol. 9, Oct. 1982, p. 1139-1142. 10/1982
Jupiter electricity
Connerney, J. E. P.; Satoh, T.; Baron, R.; Owen, T., "Jupiter and Io: a cosmic electrical generator" (abs), Earth Space, Vol. 7, No. 8, p. 6 – 7, 14. 04/1995
Comets
12/1975
Extra-solar electricity
Pulsars
Alloy, M. D.; Menezes, D. P., "Electrically Charged Pulsars", Brazilian Journal of Physics, vol. 37, Issue 4, p.1183-1190, 12/2007
Jonathan Arons, "Some problems of pulsar physics or I'm madly in love with electricity", Space Science Reviews, Volume 24, Number 4 / December, 1979, Pages 437-510
Redshift and quasars
Binary stars
Wu, Kinwah; Cropper, Mark; Ramsay, Gavin; Sekiguchi, Kazuhiro, "An electrically powered binary star?", Monthly Notices of the Royal Astronomical Society, Volume 331, Issue 1, pp. 221-227
Interstellar currents
Zweibel, Ellen G.; Brandenburg, Axel, "Current Sheet Formation in the Interstellar Medium" (1997) Astrophysical Journal v.478, p.563
Carlqvist, Per; Gahm, Gosta F., "Manifestations of electric currents in interstellar molecular clouds" (1992) IEEE Transactions on Plasma Science (ISSN 0093-3813), vol. 20, no. 6, p. 867-873. (Dec 1992)
Extragalactic jets
Jafelice, Luiz C.; Opher, Reuven; Assis, Altair S.; Busnardo-Neto, Jose, "Current generation in extragalactic jets by Cherenkov damping of magnetohydrodynamic waves" (1990) Astrophysical Journal, Part 1 (ISSN 0004-637X), vol. 348, Jan. 1, 1990, p. 61-72
Appl, S.; Camenzind, M. "The stability of current-carrying jets" (1992) Astronomy and Astrophysics (ISSN 0004-6361), vol. 256, no. 2, p. 354-370
Intergalactic currents
Terrestrial electricity